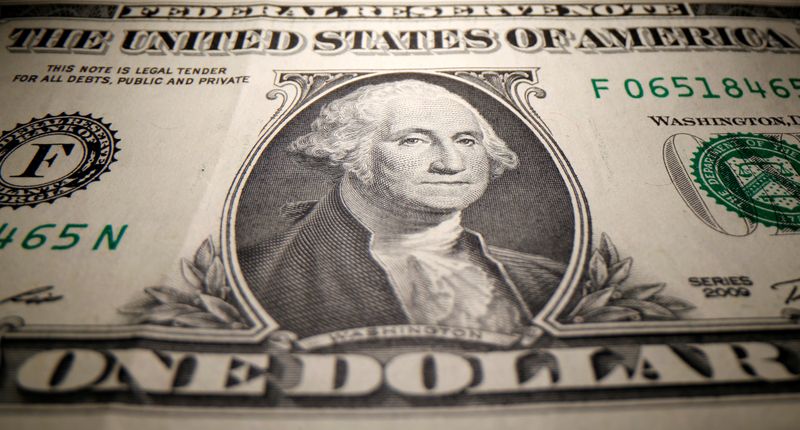 By Gertrude Chavez-Dreyfuss
NEW YORK (Reuters) – The dollar sank to its lowest since April 2022 on Thursday, as cooling U.S. inflation bolstered expectations the Federal Reserve would hike interest rates just one more time this year, eroding the greenback's yield advantage over its peers.
Against a basket of six currencies, the dollar index fell 0.8% to 99.738, after dropping earlier to 99.767, a new 15-month trough. The dollar index was headed for its biggest weekly slide in 2023.
The euro rose 0.9% to $1.1220, after hitting a new 16-month high earlier in the session. The euro headed for a sixth daily gain, its longest stretch of rises against the dollar this year.
Versus the Swiss franc, the dollar plunged to an eight-year low of 0.8583 francs. It last changed hands at 0.8588 francs, down nearly 1%.
U.S. data on Thursday reinforced the view that inflation is moderating. U.S. producer prices (PPI) inched up 0.1% in June, with the annual increase at 0.1% as well, the smallest year-on-year rise in nearly three years.
The PPI data followed Wednesday's consumer price index (CPI) report, which showed U.S. core inflation slowed a lot faster than expected. It came in at 0.2% in June against market expectations for 0.3%, while headline annual CPI fell to 3%.
"I pretty much understand the reason as to why the dollar is dropping and it's pretty compelling for dollar bears given the data that we have been seeing. Short term, we will see a little more dollar weakness," said Brad Bechtel, global head of FX, at Jefferies in New York.
But he noted that the dollar will find support somehow because the U.S. economy is still outperforming the rest of the world.
"The U.S. economy is holding in very well. We're talking of soft landing, instead of hard landing. The data continues to hold up well. So there's a lot going for the U.S. economy at the moment, and the Fed is still going to hike in July."
Interest rate futures showed markets have fully priced in another rate hike from the Federal Open Market Committee (FOMC) later this month, but expectations of any further increases have evaporated.
Against the yen, the dollar tumbled to a seven-week low of 138.06 yen, trading last at 138.31 yen, down 0.1%.
Data also showed an unexpected fall in U.S. initial jobless claims by 12,000 to a seasonally-adjusted 237,000 for the week ended July 8. This was hardly talked about by market participants, given the focus on inflation, but it does suggest that the labor market remains tight.
Whether or not the dollar is on a one-way trip lower for the rest of the year remains to be seen though.
"It's hard to be super negative about the dollar as the U.S. economy has done okay. The European economy did pretty well last year and at the beginning of this year relative to expectations," said Ugo Lancioni, head of currency management and portfolio manager at Neuberger Berman in Milan.
"But we have actually seen some deterioration in European data. And so it's not a straight line (downward) for the dollar."
Sterling rose 0.8% to $1.3073, set for its sixth day of gains, having broken on Wednesday above $1.30 for the first time since April last year. The pound hit a fresh 15-month peak of $1.3140 earlier on Thursday.
Data on Thursday showed Britain's economy shrank by less than expected in May, supporting the idea the Bank of England can afford to raise rates further without derailing growth.
In cryptocurrencies, the XRP token surged in value against the dollar to its highest since December 2021, after a U.S. judge ruled that Ripple Labs Inc did not violate federal securities law by selling the digital currency on public exchanges.
XRP was last up 75% at US$0.8552.