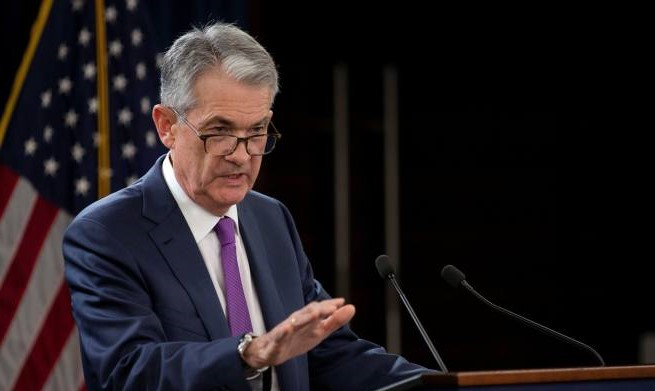 By Karen Brettell
NEW YORK (Reuters) – The dollar dipped on Wednesday after Federal Reserve Chairman Jerome Powell said that the U.S. central bank could scale back the pace of its interest rate hikes "as soon as December," helping to put the dollar index on track for its worst month since 2010.
Powell said at the Brookings Institution in Washington that "we think that slowing down at this point is a good way to balance the risks."
"He's basically telling the market that they're slowing down," said Joe Perry, senior market analyst at FOREX.COM in New York. "I think that gave permission for stocks to take off and the dollar to turn lower."
Still, Powell cautioned that the fight against inflation was far from over and that key questions remain unanswered, including how high rates will ultimately need to rise and for how long.
Fed funds futures traders are now pricing for the fed funds rates to peak at 4.95% in May, compared with expectations for a top of 5.06% in June that was priced in this morning. The U.S. central bank is expected to hike rates by an additional 50 basis points when it meets on Dec. 13-14.
The dollar index has fallen from a 20-year high of 114.78 on Sept. 28 as investors look toward the U.S. central bank reaching a peak rate early next year with inflation pressures expected to subside and growing concerns about an economic downturn.
The index fell 0.99% to 105.78 on Wednesday and is on track for a 5.10% decline this month, the largest since since Sept. 2010. The greenback also dipped 0.72% to 137.70 yen and is on course for a 7.39% loss against the Japanese currency this month, the worst since Dec. 1998.
The euro rose 0.95% against the U.S. currency to $1.0424. The single currency is on course for a 5.52% monely gain, the most since Sept. 2010.
The greenback had dipped earlier on Wednesday after the ADP National Employment report showed that U.S. private payrolls increased far less than expected in November, suggesting demand for labor was cooling amid high interest rates. Other data also showed that U.S job openings fell in October.
"You have the data potentially reaching a turning point, which is celebrated by the market because it reinforces that expectation that the Fed is not only downshifting, but maybe yields are nearing a limited runway in terms of how much more tightening there is to go," said Mazen Issa, a senior FX strategist at TD Securities in New York.
The negative jobs data was somewhat offset by a report showing that the U.S. economy rebounded more strongly than initially thought in the third quarter, with gross domestic product increasing at a 2.9% annualized rate.
A Fed report on Wednesday, meanwhile, showed that U.S. economic activity was about flat or up only slightly from mid October through late November and there were mixed signals on the persistence of inflation and labor shortages.
A European survey on Wednesday showed that euro zone inflation eased far more than expected in November, raising hopes that sky-high price growth is now past its peak and bolstering, if not outright sealing the case for a slowdown in European Central Bank rate hikes next month.
The Aussie also jumped on hopes that China will ease stringent COVID restrictions which have raised concerns about global growth. The southern city of Guangzhou became the latest to announce an easing of curbs on Wednesday.
The Australian dollar was last up 1.67% at $0.6799, after reaching as high as $0.6801, the highest since Sept. 13. It is on track for a 6.23% gain this month, the most since March 2016.