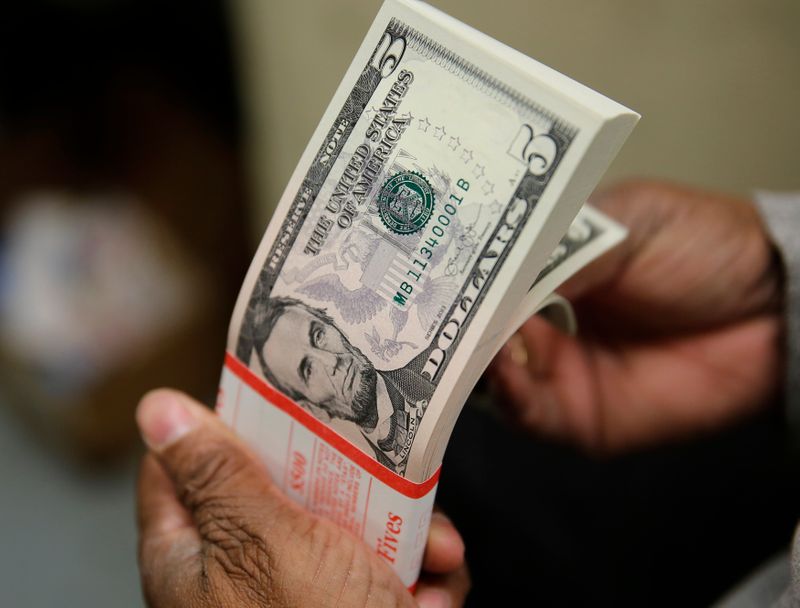 By Herbert Lash
NEW YORK (Reuters) -The dollar eased after a brief rebound on Thursday as data showing the U.S. labor market remains strong increased chances the Federal Reserve will raise interest rates later this month.
Private payrolls surged in June in the biggest rise since February 2022, an ADP National Employment report showed, while the number of Americans filing new claims for unemployment benefits rose moderately last week, the Labor Department said.
Later, a survey by the Institute for Supply Management (ISM) showed the U.S. services sector grew faster than expected in June as new orders picked up, adding to data indicating a resilient economy in the face of tighter monetary policy.
"This strong data today has a lot more of a 'good news is bad news' type feel to it," said Brian Daingerfield, head of G10 FX strategy at NatWest Markets in Stamford, Connecticut.
"Take it together with how equity markets have responded, that gives a clear picture of the dollar today. Call it a risk-off style move, where the Fed is going to be tightening more and that has negative repercussions for risk."
Futures markets raised the probability of the Fed hiking interest rates by 25 basis points to 92.4% when policymakers conclude a two-day meeting on July 26, the CME Group's (NASDAQ:CME) FedWatch Tool showed.
The yield on two-year Treasuries rose above 5% to their highest in 16 years, while U.S. stocks tumbled on the outlook that rates will stay higher for longer.
The dollar index, measuring the U.S. currency against six others including the euro and Japan's yen, fell 0.18% to 103.13.
ISM showed a measure of prices paid by businesses fell to more than a three-year low, suggesting inflation would continue to cool, but Fed officials again signaled higher rates ahead.
Dallas Fed President Lorie Logan said she was very concerned "whether inflation will return to target in a sustainable and timely way."
The major central banks for the most part are fine-tuning monetary policy, and it is unclear when they will act as they alternate between hiking and pausing interest rates, said Brad Bechtel, global head of FX at Jefferies.
"Given all these central banks are more or less in the same place in some way, shape or form, the dollar's going have a hard time" moving too much one way or the other, he said.
The safe-haven Japanese yen strengthened 0.39% versus the greenback at 144.09 as concerns about the global growth outlook, resulting from the aggressive monetary tightening by major central banks, weighed on risk appetite.
ONE DIMENSIONAL
The pound hit two-week highs against the euro and dollar as financial markets bet the Bank of England will raise rates to 6.5% early next year, pushing the yield on the two-year UK government bond to its highest since June 2008.
"The FX market is taking more of a 'one-dimensional approach' to trading the British disease," said Stephen Gallo, global FX strategist at BMO Capital Markets.
"Instead of selling GBP in anticipation of an economic slowdown, it is buying GBP on the basis of interest rate differentials," Gallo said.
The Chinese yuan last traded down slightly at 7.2575 per dollar in the offshore market, a day after falling about 0.4%. The central bank set a stronger-than-expected midpoint fixing for the fourth straight day this week, which traders believe is an attempt to prevent the yuan from weakening too fast and too far. [CNY/]