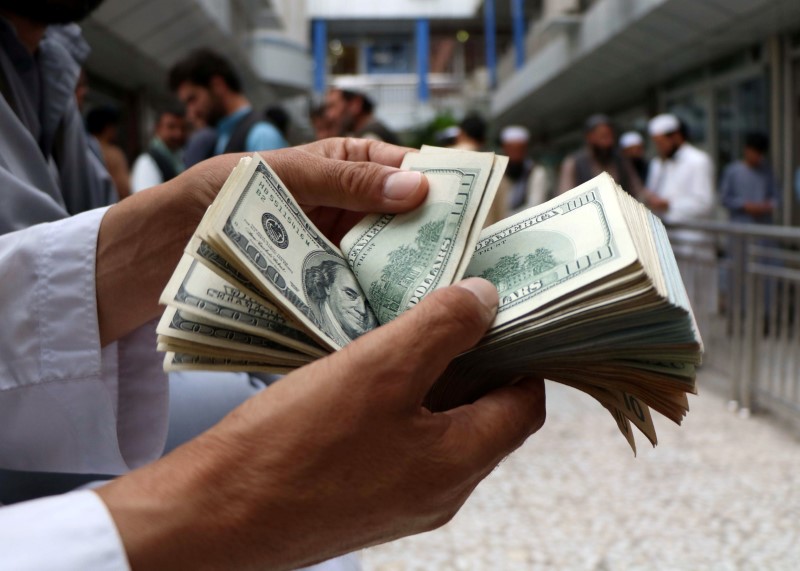 By Tom Westbrook
SINGAPORE (Reuters) – The U.S. dollar was firm in Asia trade on Wednesday following surprisingly strong U.S. housing data, while the yuan and Aussie dollar nursed losses and focus turned to Federal Reserve Chair Jerome Powell's appearance before Congress later in the day.
Single family housing starts surged 21.7% in May against expectations they'd be more or less flat. Traders discounted it somewhat since the jump wasn't led by a leap in permits, but it still gave the dollar a boost ahead of Powell's testimony.
The greenback was marginally stronger at $1.0916 per euro overnight and steady early in the Asia session. The yen was also firm at 140.50 per dollar ahead of an appearance by Bank of Japan Governor Kazuo Ueda on Wednesday.
The Aussie and yuan were Tuesday's largest losers and were in no mood for a bounce early on Wednesday. China had cut rates by less than expected and while its post-COVID recovery stalls, hoped-for major stimulus is yet to arrive.
The yuan fell about 0.3% overnight and in offshore trade early on Wednesday the currency was pinned at 7.1826 per dollar, near a seven-month low.
With China's Premier Li Qiang abroad in Europe, traders see an imminent announcement of further stimulus as unlikely.
The Aussie had taken a further beating thanks to Tuesday's less-hawkish-than-expected central bank minutes following this month's rate hike. It fell 0.9% overnight and last bought $0.6790.
"The path of least resistance is further declines," said Commonwealth Bank of Australia (OTC:CMWAY) strategist Joe Capurso.
"The Aussie could dip below 0.6700 this week, particularly if Powell is hawkish," he said. Powell is due to begin his testimony at 1400 GMT.
The New Zealand dollar was dragged lower in sympathy, breaking below its 50-day moving average before steadying just above its 200-day moving average at $0.6168.
It is under pressure after the central bank flagged it was finished with hikes, while data showed the economy in recession.
"From here we see further stagnation in growth," said Mieneke Perniskie, a currency trader at Kiwibank in Wellington.
"Our pick is that the kiwi will head towards the $0.57 level before the year is out, but it won't be in a straight line," she said. "First off the bat we will need to crack the $0.59 level. That may only be a matter of weeks away."
Elsewhere sterling recovered some of its overnight drop to sit at $1.2760. British inflation data is due later in the day with economists hoping for signs its easing.
The data is likely to be decisive for the Bank of England, which meets on Thursday with markets currently pricing about a 3/4 chance of a 25 bp hike and a 1/4 chance of a 50 bp hike.
"Sterling may halt the current reversal (if) expectations are reshaped, with the pair potentially jumping back above 1.28 and re-testing last week's resistance at 1.2847," said Daniela Hathorn, analyst at Capital.com.
The U.S. dollar index was steady at 102.55. Bitcoin jumped 5% overnight to break over $28,000 for the first time since late May, helped by the launch of a new crypto exchange backed by Fidelity, Citadel Securites and Charles Schwab (NYSE:SCHW).