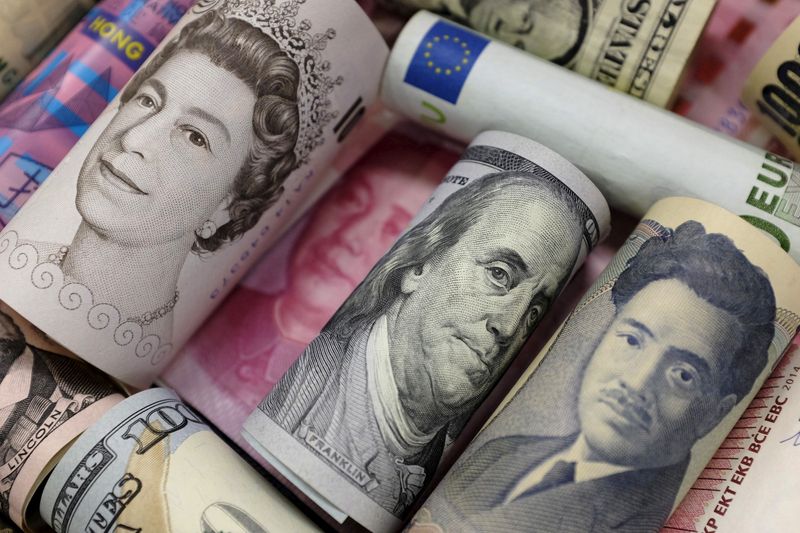 By Rae Wee
SINGAPORE (Reuters) – The U.S. dollar held near a seven-week peak on Thursday, after President Joe Biden and top U.S. congressional Republican Kevin McCarthy worked towards avoiding a damaging debt default, while the Aussie dollar slipped after disappointing jobs data.
Biden and McCarthy on Wednesday underscored their determination to strike a deal soon to raise the government's $31.4 trillion debt ceiling, having agreed a day earlier to negotiate directly after a months-long standoff.
While the upbeat meeting helped calm fears of an unprecedented American debt default, a cautious air tempered risk-taking.
U.S. Treasury yields remained elevated in early Asia trade after having risen in the previous session, as investors sold off the safe-haven bonds in the wake of the positive signs on the debt ceiling negotiations. Yields rise when bond prices fall.
The pop up in treasury yields helped lift the U.S. dollar. Against a basket of currencies, the dollar index firmed near its seven-week peak hit in the previous session, and last stood at 102.86.
"We got some positive headlines over the debt ceiling negotiations … so that obviously supported market sentiment," said Carol Kong, a currency strategist at Commonwealth Bank of Australia (OTC:CMWAY).
"As a result, yields have risen and equities also posted some solid gains."
The two-year Treasury yield was last at 4.1414%, after having risen as much as 10 basis points in the previous session, while the benchmark 10-year Treasury yield last stood at 3.5665%.
Early market action in Asia was partly led by the Aussie dollar, after data on Thursday showed that Australia's employment unexpectedly dipped in April, following two months of outsized gains. The jobless rate also ticked up, in a sign that the red-hot labour market might be cooling.
The Aussie slipped more than 0.3% after the data and was last 0.26% lower at $0.6642.
The euro was pressured near an over six-week low at $1.0841. The single currency had bottomed at $1.08105 on Wednesday, its lowest since April 3.
The Japanese yen last bought 137.50 per dollar, having fallen nearly 1% on Wednesday.
"The dollar typically falls in the lead up to the debt ceiling being reached … so I think the dollar gains overnight were partly an unwinding of previous falls driven by concerns about a U.S. default," said Kong.
Elsewhere, sterling was last 0.02% lower at $1.2485, having similarly fallen to a three-week low in the previous session.
The kiwi fell 0.05% to $0.6245, while the Chinese offshore yuan slipped nearly 0.1% to 7.0147 per dollar.
The yuan had weakened past 7 per dollar on Wednesday for the first time in five months, amid geopolitical tensions and more signs of China's post-COVID recovery losing steam.