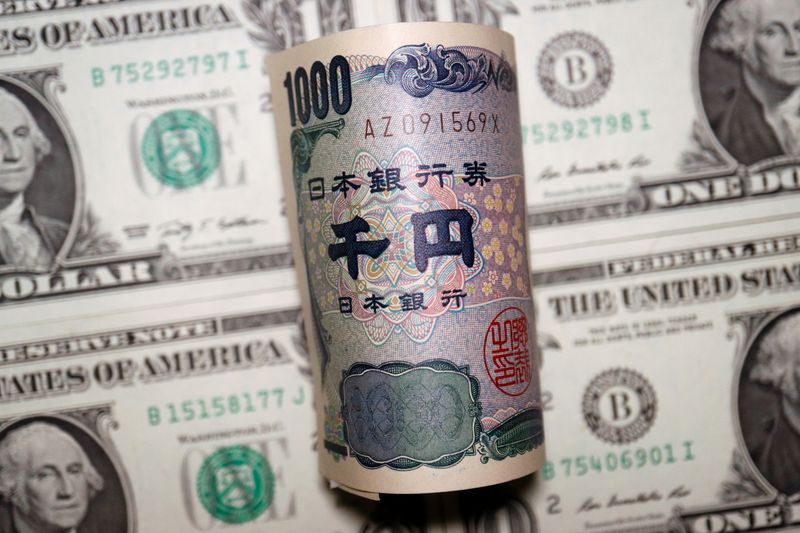 By Ankur Banerjee
SINGAPORE (Reuters) – The dollar was steady on Friday as data pointed to U.S. labour market resilience that could lead the Federal Reserve to keep interest rates higher for longer, while the yen strengthened after Japan's core consumer inflation re-accelerated in June.
Central bank meetings from Europe, Japan and the United State are due next week, with investors parsing through data to better gauge monetary policy paths they will likely chart.
The Japanese yen strengthened 0.08% to 139.97 per dollar after nationwide core consumer price index rose 3.3% in June from a year earlier, matching a median market forecast, but remained above the Bank of Japan's 2% target.
The data bolsters the chances the BOJ will revise up this year's inflation forecast in fresh projections due next week.
Carol Kong, a currency strategist at Commonwealth Bank of Australia (OTC:CMWAY) (CBA), said the market expectations for a BOJ policy tightening have ebbed and flowed over the past year.
"The window for the BOJ to tighten policy is narrowing," Kong said, adding that CBA's base case is for the BOJ to keep monetary policy unchanged this year.
BOJ Governor Kazuo Ueda earlier this week said Japan was still distant from sustainably achieving the bank's 2% inflation target, dousing speculation that a tweak to yield curve control was on the cards next week.
The yen has slipped about 1% against the dollar this week and is on course to snap its two-week winning run.
Meanwhile, data overnight showed the number of Americans filing new claims for unemployment benefits unexpectedly fell last week, touching the lowest level in two months amid ongoing labour market tightness.
Ryan Brandham, head of global capital markets, North America at Validus Risk Management said the jobless claims figures have now returned to healthy ranges after a slight increase in early June.
"The U.S. labour market continues to show resilience to previous Fed hikes. This result will not deter the FOMC from proceeding with hiking next week."
Markets expect a 25 basis point hike from the Fed next week and the odds of the U.S. central bank to continue raising rates nudged up after the data.
Against a basket of currencies, the dollar rose 0.03% at 100.78, after gaining 0.5%. The index is on course for a 1% gain in the week.
The euro rose 0.04% to $1.1132, having dropped 0.6% on Thursday. The European Central Bank is expected to raise interest rates by 25 basis points on July 27, according to all economists in a Reuters poll, a slight majority of whom were now also expecting another hike in September.
The Australian dollar fell 0.28% to $0.676, while the kiwi fell 0.34% to $0.621.