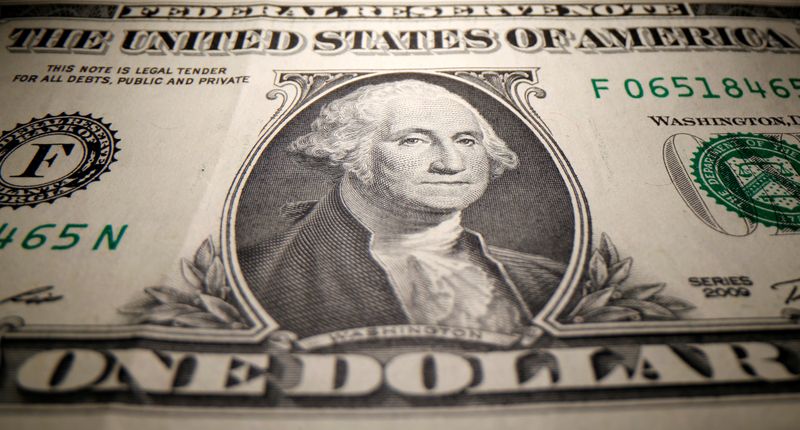 By Karen Brettell
NEW YORK (Reuters) – The dollar firmed on Monday after Friday's solid jobs report boosted expectations for a U.S. interest rate hike in May, while the yen weakened as new Bank of Japan Governor Kazuo Ueda signaled no hurry to dial back its massive stimulus.
U.S. employers hired at a strong pace in March, adding 236,000 jobs that pushed unemployment down to 3.5%, signaling labor market resilience that will keep the Federal Reserve on track to raise rates again next month.
"In my view the pendulum of market sentiment is going to swing back in favor of a Fed rate hike early next month," said Marc Chandler, chief market strategist at Bannockburn Global Forex in New York, noting that momentum indicators for dollar currency pairs are "overstretched," and likely to favor near-term dollar strength.
The dollar index was last up 0.53% against a basket of currencies at 102.55 after reaching 102.81, the highest since April 3. The euro fell 0.36% to $1.0859 after dropping to $1.08315, the lowest since April 3.
Consumer price data on Wednesday, this week's major U.S. economic focus, is expected to show headline inflation rose by 0.3% in March, while core inflation increased 0.4%.
Americans said last month that credit access was the toughest in nearly a decade, as they also braced for higher inflation over the next few years, a report from the New York Fed said Monday.
Traders are also closely watching data on bank lending after the collapse of Silicon Valley Bank in mid-March sparked fears about bank contagion and led the government and Fed to intervene to shore up liquidity in the sector.
"We know from the Fed's point of view price pressures remain elevated and the labor market remains robust. That hasn't really changed, what's changed is bank behavior," said Chandler.
The latest Fed data shows that commercial and industrial loans at commercial banks dropped to $2.756 trillion in the week ending March 29, from $2.824 trillion in the week ending March 15.
Deposits at U.S. commercial banks rose near the end of March for the first time in about a month, indicating that pressures from customers pulling deposits were easing.
Fed funds futures traders are pricing in a 74% probability that the Fed will hike rates by an additional 25 basis points at its May 2-3 meeting.
The dollar gained against the Japanese yen after Ueda said it was appropriate to maintain the BoJ's ultra-loose monetary policy for now as inflation has yet to hit 2% as a trend.
The greenback was last up 1.12% at 133.615 yen, after hitting 133.87, the highest since March 15.
The Australian and New Zealand dollars fell after China began three days of military drills on Saturday simulating precision strikes against Taiwan, the day after Taiwan President Tsai Ing-wen returned from a brief visit to the United States. Beijing is a key trading partner for the Antipodean countries.
The Australian dollar fell 0.51% to $0.6674, after earlier hitting $0.66195, the lowest since March 16, and the kiwi dropped 1.01% to $0.6211, after earlier reaching $0.6195, the lowest since March 27.
In cryptocurrency, bitcoin rose more than 3% to $39,266 and earlier reached $29,311, its highest level since March 24.