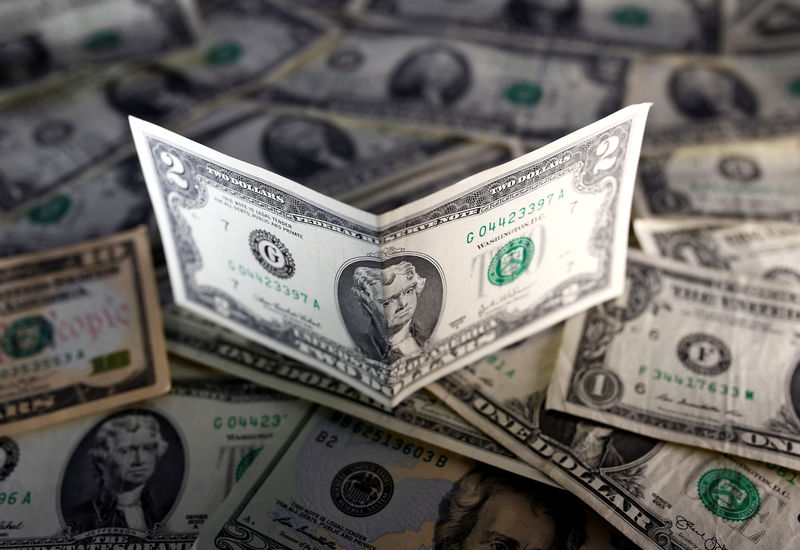 By Sinéad Carew and Alun John
NEW YORK/LONDON (Reuters) – The dollar was supported by stronger-than-expected U.S. retail sales data on Wednesday as investors also looked for clues from Federal Reserve speakers on the path for interest rates.
But the euro gained against the greenback and the yen as geopolitical concerns eased after Poland and NATO said on Wednesday that Tuesday's explosion, which killed two in Poland, was probably from a stray missile from Ukraine's air defenses and not an intentional Russian strike.
The euro was last up 0.33% at $1.0388 but still below the four-and-a-half month peak of $1.0481 it touched Tuesday when U.S. producer price inflation data was below expectations. While it was well off its session high of the day, the euro more than erased Tuesday's losses against the yen. It was last up 0.46% against the Japanese currency.
Tuesday's U.S. data had suggested last week's cooler-than-expected consumer price inflation was not a one-off, fueling hopes that the U.S. Federal Reserve can slow aggressive rate hikes that had sent the dollar soaring against the pound, euro and yen this year.
Then on Wednesday the Commerce Department said that October retail sales rose 1.3% compared with economist expectations for 1.0%, with estimates ranging from a 0.1% drop to a 2.0% jump.
Meanwhile, two key policy doves argued on Wednesday that while the European Central Bank must continue to raise interest rates, there is a growing case for increased caution in policy tightening after a string of aggressive moves.
"A lot of people are fixated on what we're going to see regarding what the Fed and the ECB will do," said Edward Moya senior market analyst at Oanda in New York.
Also, Fed Governor Christopher Waller, an early and outspoken "hawk," said the Fed has a ways to go on rates and will still need increases into next year although he added that data made him "more comfortable" with the idea of slowing to a 50-basis point hike in December.
San Francisco Fed President Mary Daly told CNBC it's reasonable for the Fed to raise its policy rate to a 4.75%-5.25% range by early next year, and that pausing rate hikes is not part of the discussion.
"There's a lot of noise in the FX market. You could say Waller and Daley's comments today were somewhat hawkish," said Moya. "The retail sales figures showing there's more resilience in the economy could make the argument the Fed could be justified in maintaining its aggressive stance against inflation."
Elsewhere, data released on Wednesday showed inflation in Britain – in contrast with the United States – continues to rise, hitting a 41-year high in the 12 months to October.
After rising earlier, Sterling was last up 0.31% at $1.1906.
Britain is set to announce a new budget on Thursday with expectations for tax hikes and spending cuts. The pound fell to a record low of $1.0327 in September after finance minister Jeremy Hunt's predecessor Kwasi Kwarteng announced a package of unfunded tax cuts.
The dollar was up 0.07% against the Japanese yen at 139.3950, compared with Tuesday's two-and-a-half-month low of 137.67.
The dollar index, which tracks the greenback against six main peers, was recently 0.06% lower at 106.342 after earlier hitting a low of 105.859.