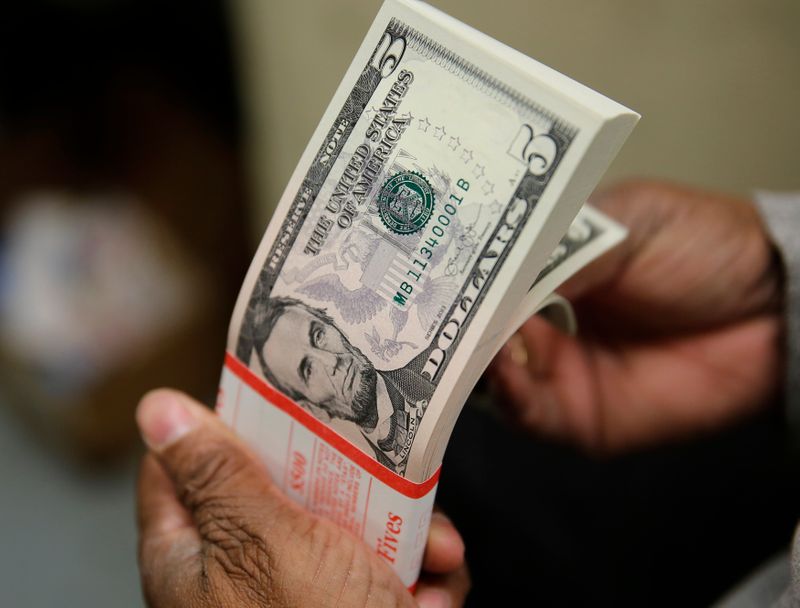 By Karen Brettell
NEW YORK (Reuters) – The dollar rose against the Japanese yen on Tuesday, but ended lower against the euro after data showed that U.S. retail sales rose more than expected in September, with investors also focused on a busy week of speeches by Federal Reserve officials.
Retail sales rose 0.7% last month as households boosted purchases of motor vehicles and spent more at restaurants and bars.
"The whole idea of the U.S. economy slowing down in Q4 was that the consumer would pull back, and they ended Q3 on a very strong note," said Marc Chandler, chief market strategist at Bannockburn Global Forex.
Despite the positive sales, Jeffrey Roach, chief economist for LPL Financial (NASDAQ:LPLA), noted that there are some headwinds affecting U.S. consumers.
"Investors need to look underneath the sales figures to get a better look on the health of the consumer. Rising use of credit and early signs of delinquencies could dampen some of the enthusiasm," he said in a note.
Other data on Tuesday showed that production at U.S. factories increased more than expected in September despite strikes in the automobile industry curbing motor vehicle output.
The dollar index was last flat on the day at 106.23. It is holding below the 107.34 level reached on Oct. 3, the highest since November 2022.
The euro gained 0.08% to $1.0569. It is up from $1.0448 on Oct. 3, the lowest since December 2022.
Investors are focused on speeches this week by Fed officials, including Fed Chair Jerome Powell on Thursday, for further clues about interest rate policy.
Richmond Fed chief Thomas Barkin on Tuesday said that higher long-term borrowing costs are putting downward pressure on demand, but it's unclear how that will affect the central bank's rates decision in two weeks.
Fed officials will enter a blackout period on Oct. 21 before the Fed's Oct. 31–Nov. 1 meeting.
Traders are evaluating whether the U.S. central bank may hike rates again as it battles to bring inflation closer to its 2% annual target.
Fed funds futures traders are pricing in a 43% chance of an additional interest rate hike this year, but only 12% odds of a rate increase next month, according to the CME Group's (NASDAQ:CME) FedWatch Tool.
The Japanese yen weakened back nearer to 150, last trading at 149.77, keeping investors alert to the possibility of an intervention by Japanese authorities.
It briefly surged earlier on Tuesday after a media report that the Bank of Japan was considering raising its core CPI forecast for the 2023 and 2024 fiscal years but maintaining the inflation outlook for 2025.
LOONIE, POUND DIP AS DATA DAMPENS HIKE EXPECTATIONS
The Canadian dollar weakened after Canada's annual inflation rate unexpectedly slowed to 3.8% in September and underlying core measures also eased, prompting markets and analysts to trim bets for another interest rate hike next week.
The U.S. dollar was last up 0.26% at 1.3647 Canadian dollars.
The pound dipped after growth in British workers' regular pay slowed from a previous record high and job vacancies also dropped, although the publication of some labor market data, including the unemployment rate, was delayed until next week.
Sterling was last at $1.2174, down 0.34% on the day, after jumping 0.6% on Monday.
The New Zealand dollar fell 0.62% to $0.5892 after data on Tuesday showed consumer inflation hit a two-year low, reducing expectations the central bank will hike the cash rate further in November.