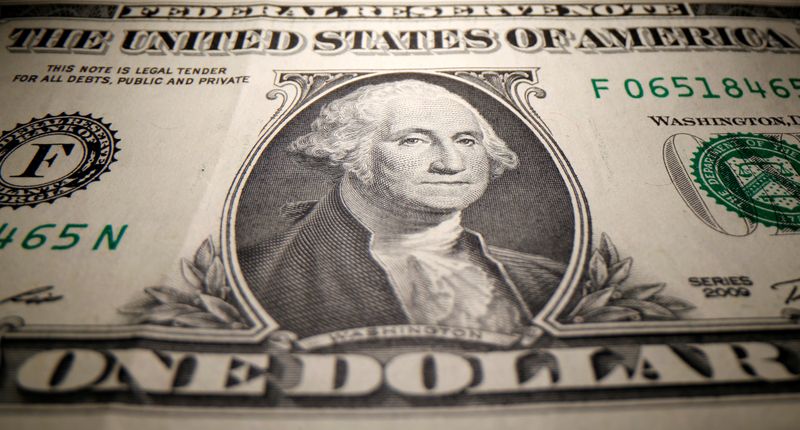 By Caroline Valetkevitch
NEW YORK (Reuters) – The U.S. dollar was up against the yen on Wednesday after data showed a surprise pickup in the U.S. services industry in July, while hawkish comments from Federal Reserve officials this week also supported the greenback.
The Institute for Supply Management said its non-manufacturing PMI rebounded last month from June. The increase ended three straight monthly declines. It also showed supply bottlenecks and price pressures eased, and backed up the view that the economy is not in a recession.
Fed officials voiced their determination again on Wednesday to rein in high inflation, although one noted a half-percentage-point hike in the U.S. central bank's key interest rate next month might be enough to march toward that goal.
The greenback rallied on Tuesday after a trio of Fed officials signaled that the central bank remains "completely united" on increasing rates to a level that will put a dent in the highest U.S. inflation since the 1980s.
"The Federal Reserve is pushing back on diminishing rate hike expectations, and that's helped to give the dollar a lift," said Adam Button, chief currency analyst at ForexLive in Toronto.
U.S. monthly jobs data due on Friday will also help set the tone for the greenback, analysts said.
The dollar index, which tracks the greenback against six major peers, was last nearly flat at 106.40. The index had been lower heading into the report.
The dollar index, which remains up sharply for the year so far, had eased recently as investors began reassessing how aggressive the Fed may be with rate hikes.
Against the yen, the dollar was last up 0.6% at 134.05 yen.
The yen's "safe-haven status is eroding," Button said. "The dollar is both the source of growth and the safe haven. That's absolutely super charged dollar gains this year, given the state of monetary policy."
Friction after the highest-level U.S. visit to Taiwan in 25 years also may help support the U.S. dollar, analysts said. China condemned House of Representatives Speaker Nancy Pelosi's visit and began six days of military drills surrounding Taiwan. Pelosi left Taiwan on Wednesday after pledging American solidarity during her brief visit.
Against the dollar, the euro was last flat at $1.0165. Reports earlier showed monthly drops in both business activity and retail sales in the euro zone.
Sterling weakened against the dollar. It was last down 0.1% at $1.2145 ahead of a Bank of England policy meeting on Thursday. It is expected to raise rates for the sixth straight time.