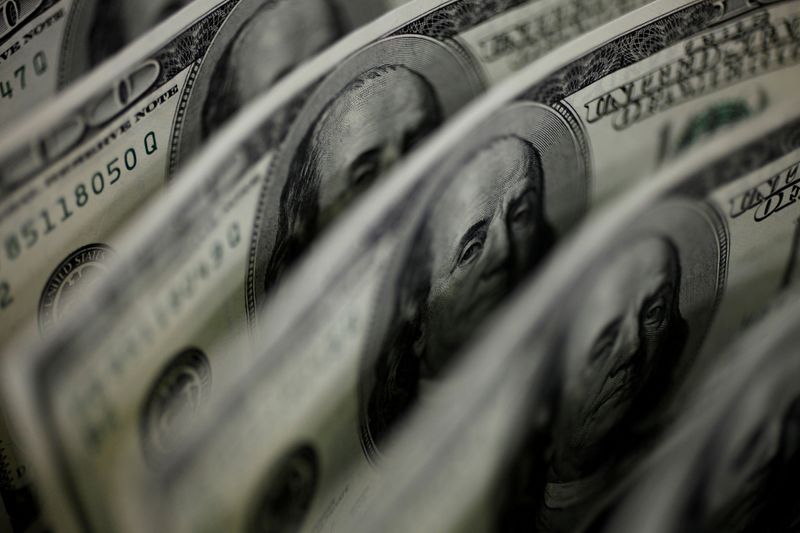 By Ambar Warrick
Investing.com– The dollar tumbled to a nine-month low against a basket of currencies on Thursday, even after the Federal Reserve reiterated its commitment to keep hiking interest rates, with markets betting that the ensuing economic headwinds will force the bank into cutting rates as soon as this year.
The dollar index slumped 1% after the Fed decision on Wednesday to 101.08 points- its weakest level since April 2022. Dollar index futures traded even lower at 100.957 points.
The central bank hiked rates by a smaller 25 basis points (bps), and noted recent progress made towards bringing down inflation. But Fed Chair Jerome Powell also said that inflation still remained elevated in the country, and that he was unsure over how much further the bank would need to hike rates in order to cool price pressures.
But markets appeared to have taken this as a sign that the central bank was close towards reaching its peak interest rate during this hiking cycle, with expectations also increasing for a potential dovish pivot by the Fed in the second half of the year.
While the central bank is still expected to hike rates by another 25 bps in March, markets are expecting the Fed to then announce a hold on further rate hikes.
"With the economy losing momentum, the jobs market showing tentative signs of cooling and inflation on a downward path, we expect one final 25 bps hike in March," analysts at ING wrote in a note.
ING also noted that the Fed funds rate was finally above core PCE inflation- a "key metric" that the Fed had intended to achieve. The investment bank now sees inflation falling at a quicker rate in the coming months. The U.S. core PCE price index stood at 4.4% in December, while the Fed's target rate is now at 4.75%.
Traders in the interest rate swaps market appear to be pricing in the possibility of an at least 50 bps trimming in interest rates in the second half of the year, Bloomberg reported.
"Recessionary forces will then make the case for rate cuts later in the year," ING said, noting that economic growth, corporate funding and the jobs market is likely to slow much further by the second half of 2023.
The potential for a dovish pivot weighed on the dollar. But the greenback was also pressured by strength in the euro and the British pound in anticipation of hawkish central bank meetings in the two countries.
Both the European Central Bank and the Bank of England are expected to raise interest rates by 50 bps later on Thursday, and are also expected to signal more hikes.