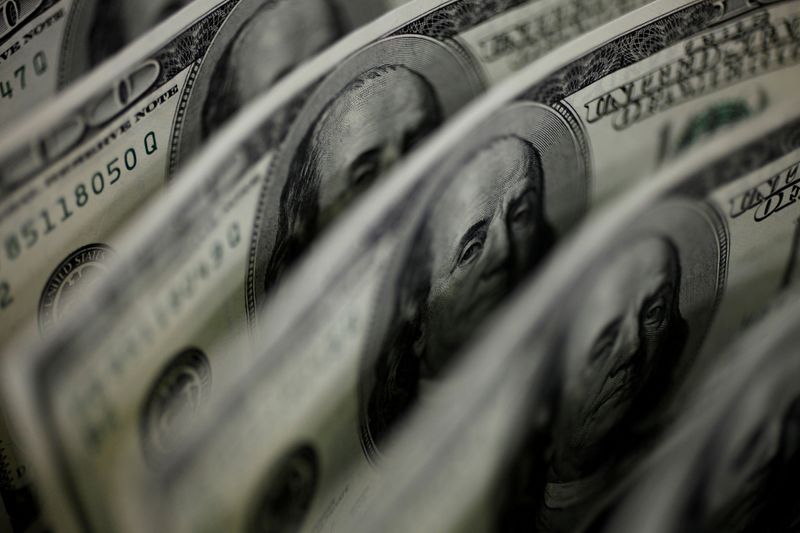 By Rae Wee
SINGAPORE (Reuters) – The dollar held firm on Monday supported by growing expectations of further rate hikes by the U.S. Federal Reserve, though news that a debt ceiling deal had been finalised drew some of the safe haven bids away from the greenback.
The U.S. dollar notched a fresh six-month high of 140.91 yen in early Asia trade before reversing some of those gains to last trade at 140.39 yen. It was on course for a monthly gain of about 3% against the Japanese currency.
The yen's renewed decline has come on the back of rising U.S. Treasury yields, as bets grow that interest rates in the United States would stay higher for longer.
Data released on Friday showed that U.S. consumer spending increased more than expected in April and inflation picked up, adding to signs of a still-resilient economy.
Yields on U.S. Treasuries jumped on the back of the data, with the two-year yield, which typically reflects near-term interest rate expectations, rising to an over two-month high of 4.639% on Friday.
Cash U.S. Treasuries were untraded in Asia on Monday, owing to the Memorial Day holiday in the United States, while futures were broadly steady. Ten-year futures' implied yield was 3.84%.
The UK market is similarly closed on Monday for a holiday.
Against the dollar, the euro edged 0.02% higher to $1.0735, while sterling slipped 0.01% to $1.23495.
"Whether the dollar sustains the rally that we're seeing, I think it'll depend on particularly the wages data, or average earnings within Friday's payrolls report, and obviously we've got CPI before the Fed as well," said Ray Attrill, head of FX strategy at National Australia Bank (OTC:NABZY) (NAB).
"There's still quite a lot of data to flow under the bridge before we get to the June meeting."
Money markets are now pricing in a 62% chance that the Fed will raise rates by 25 bps in June, as compared to a roughly 26% chance a week ago, according to the CME FedWatch tool.
DEBT DEAL DONE?
The upbeat mood in Asia was dominated by news that U.S. President Joe Biden had finalised a budget agreement with House Speaker Kevin McCarthy to suspend the $31.4 trillion debt ceiling until Jan. 1, 2025.
Biden said on Sunday that the deal was ready to move to Congress for a vote.
The wave of optimism pushed the risk-sensitive Australian and New Zealand dollars away from their six-month lows hit last week.
The Aussie rose 0.41% to $0.6545, while the kiwi edged 0.29% higher to $0.60645.
The U.S. dollar index was last 0.15% lower at 104.11, though it remained near last week's two-month peak of 104.42.
"We've got a risk-positive response so far to the debt deal news," said NAB's Attrill.
"Obviously there's still the need to get this debt deal over the line, but I think markets are happy to travel on the presumption that it will get done before the new X-date."
U.S. Treasury Secretary Janet Yellen had on Friday said the government would default if Congress did not increase the $31.4 trillion debt ceiling by June 5, having previously said a default could happen as early as June 1.
Elsewhere, the Turkish lira remained under pressure at 20.04 per U.S. dollar, after having slumped to a record low of 20.06 per dollar on Friday.
President Tayyip Erdogan secured victory in the country's presidential election on Sunday, extending his increasingly authoritarian rule into a third decade.