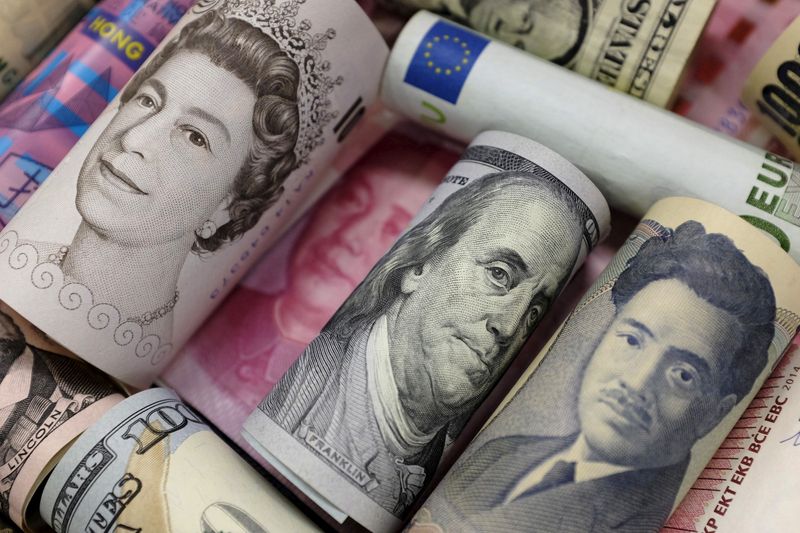 By Brigid Riley
TOKYO, Sept 28 (Reuters) – The dollar clung near a 10-month high against a basket of its peers on Thursday, keeping the yen under pressure near a key intervention zone as investors size up upbeat U.S. economic data and fresh comments from Federal Reserve officials.
Federal Reserve Bank of Minneapolis President Neel Kashkari was one among several Fed voices to caution markets on the possibility of more hikes, saying on Wednesday that ample evidence of ongoing economic strength meant that more tightening might be in the pipeline.
Fed Chair Jerome Powell is scheduled to speak later on Thursday, giving markets further clues into the future path of U.S. monetary policy.
The Fed officials' remarks come as economic data out of the U.S. continues to surprise with its strength, defying investor expectations for a slowdown.
"Despite fears earlier this year that the U.S. could fall into recession, we are probably seeing a reacceleration in economic activity," which is also propelling U.S. yields up, said Kyle Rodda, senior financial market analyst at Capital.com.
The U.S. dollar index , which measures the greenback against a basket of other major currencies, hovered around 106.58, after hitting 106.84 overnight, the highest level since Nov. 30.
U.S. benchmark 10-year yields hit a fresh top of 4.462% overnight, the highest since October 2007.
The dollar/yen pair tends to be extremely sensitive to changes in long-term U.S. Treasury yields, particularly at the 10-year maturity.
The yen last sat at 149.48, off Wednesday's fresh 11-month low of 149.71, but still too close to the psychological level of 150 per dollar for comfort, keeping investors on alert for signs of intervention by Japanese authorities.
The 150 zone is seen by markets as a line in the sand for Japanese authorities that could spur intervention as it did last year.
The Japanese currency has also been squeezed by a surge in oil prices, which on Wednesday marked their highest settlement in 2023 after a steep drop in U.S. crude stocks compounded worries of tight global supplies.
"If the MOF is serious about intervening to support the free-falling yen, which we think they are, then a response (intervention) is likely not too far away," said Tony Sycamore, market analyst at IG, in a note.
Elsewhere, the euro was off Wednesday's low of $1.04880, the lowest level since Jan. 6, while sterling GBP=D3 stood just above its lowest level since March 17.
Higher rates in the U.S. were also weighing on the Aussie , which lingered close to $0.6357 against the greenback after falling as low as $0.63320 overnight. Australian retail data out later on Thursday will be in focus.