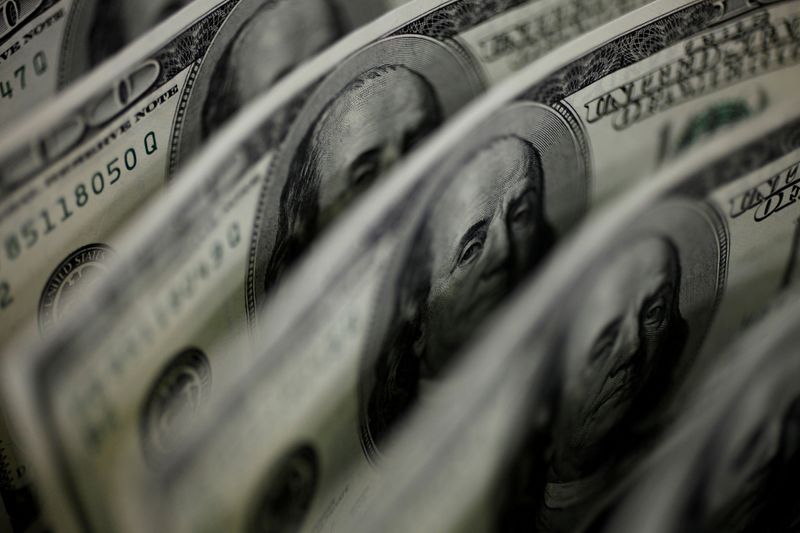 By Yasin Ebrahim
Investing.com – It won't be long until the dollar shakes off its post-Federal Reserve slumber as calls on a dovish Fed pivot are too early and weakening in the global economy will continue to sour sentiment on risk assets.
The U.S. dollar index, which measures the greenback against a trade-weighted basket of six major currencies, fell by 0.30% to 106.02.
"Looking at the coming weeks, our view is that the post-FOMC dollar weakness may start to fade quite soon," ING said in a note.
The economy declined by 0.9% in the second quarter, the Commerce Department said in its first estimate on Thursday, confounding estimates for a 0.5% increase.
The weaker economy data reignited the 'bad news is good news' reaction in risk assets amid expectations that a wobble in the economy will force the Fed to rethink its approach to front-load rate hikes.
Treasury yields added to losses from a day earlier, pressuring the greenback to slide deeper in the red.
The Fed hiked rates by 0.75% on Wednesday but also teed up expectations for a slower pace of tightening after the September meeting to assess the impact of rate hikes on inflation and the economy.
Bets on the Fed pivoting to a less hawkish stance, ING adds, may prove too early and "markets should retain most dollar longs until the Fed is giving clearer signals that it is pivoting to a less hawkish stance."
Morgan Stanley appears to agree and points to a Fed that will likely remain "hyper-focused on fighting inflation, despite signs of weaker growth."