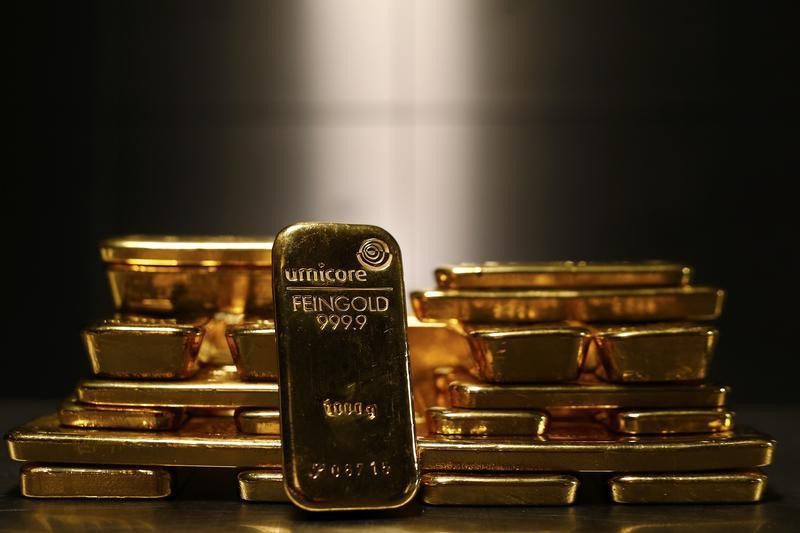 Investing.com – Gold bulls recaptured the $2,000 an ounce territory that had eluded them the past two months as investors sought shelter in safe havens amid increasing worry that Israel would indeed push through with a full ground invasion of Gaza to flush out Hamas militants from the Palestinian land.
Gold's most-active futures contract on New York's Comex, December, settled Friday's official trading session at $1998.50 an ounce, up just $1.10, or 0.05%. after an intraday high of $2,017.70.
In post-settlement trade though, the benchmark gold futures contract was a tad higher than its Friday peak, standing at $2,017.85 at 15:35 US Eastern Time (19:35 Greenwich Mean Time), up $20.45, or 1.02%, on the day.
The post-settlement rally in gold came as traders reacted to a frenzy of headlines on the latest Middle East conflict, where warring parties Israel and Hamas were no closer to a solution despite intense mediation by the United States and other global powers.
An official of the militant Hamas group conditioned the release of hostages in Gaza on a ceasefire in Israel's bombardment of the Palestinian enclave, Reuters reported. Israel says it is preparing a ground invasion, but has been urged by the U.S. and Arab countries to delay an operation that would multiply the number of civilian casualties in the densely populated coastal strip and might ignite a wider conflict.
"It's a 'mess', in one word," John Kilduff, a partner at New York energy hedge fund Again Capital, said in comments that could have applied to traders across markets. Kilduff said as far as he knew, no trader "knows where this thing is heading and everyone is just racing from headline to another".
"It's a field day for vol' traders though," he added, using the abbreviation for volatility.
The spot price of gold, more closely watched by some traders than futures, was at $2,007.13, up $22.24, or 1.1%, after a session high of $2,009.41.
"With spot gold having successfully cleared the $1,998 horizontal resistance and reaching $2,009, the next major push would be towards $2,050 and $2,075," said Sunil Kumar Dixit, chief technical strategist at SKCharting.com. "Immediate support for spot gold also shifts higher, to the $1,990-$1,980 zone."
Israeli forces carried out their biggest Gaza ground attack on Hamas overnight, with Prime Minister Benjamin Netanyahu saying Israeli troops were still preparing for a full ground invasion.
While that was being held up amid intense mediation by world powers, the threat of fifth largest oil producer Iran thrusting itself into the battle seemed to intensify with passing each day of the three-week old war.
Tehran, a vociferous supporter of Hamas, has constantly baited Israel ally Washington since the deadly Hamas rampage into southern Israel on Oct. 7 that triggered the worst fighting the Middle East has seen in decades. U.S military struck Iranian targets in Syria on Friday, prompting Iranian Foreign Minister Hossein Amirabdollahian to warn that the United States will "not be spared from this fire".
Separately, projectiles hit two Egyptian Red Sea towns on Friday injuring several people, sources and officials said, showing the risk of regional spillover from the conflict.