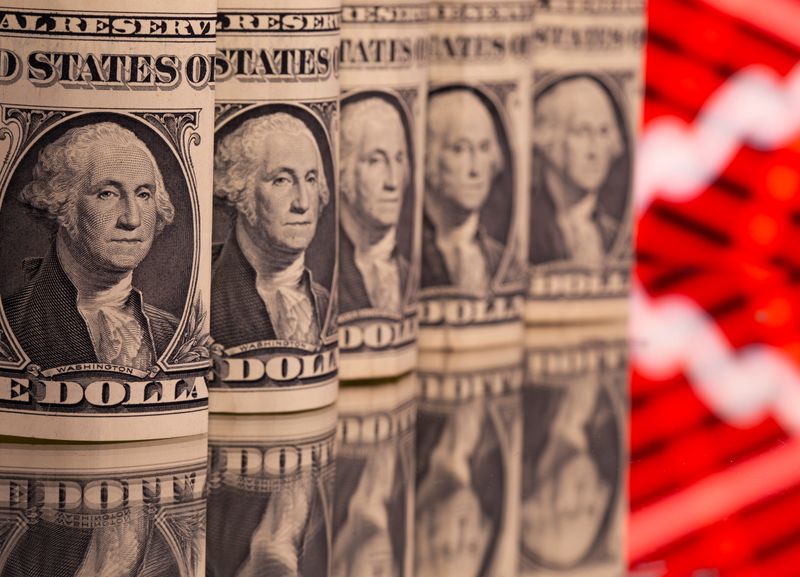 By Joice Alves and Tom Westbrook
LONDON (Reuters) – The U.S. dollar held its ground on Wednesday as traders waited for this week's U.S. consumer price data to see whether it will confirm that inflation is in retreat.
The euro flattened against the dollar after a European Central Bank policymaker said the cycle of interest rate increases was approaching its end, while ECB staff published an article arguing that "very strong" wage pressures are likely over the next few quarters.
While traders awaited U.S. inflation data to help firm up Federal Reserve interest rate hike expectations, ECB's governing council member Mario Centeno said on Tuesday he expected inflation to fall again in March and the monetary tightening process was nearing its end.
The euro hovered around its strongest level against the dollar in seven months, flattening at $1.0733.
"Euro/dollar remains gently bid, buoyed by expectations of a Fed U-turn in the second half of this year, China reopening and a belatedly hawkish ECB," said Chris Turner, ING head of currency Strategy.
The dollar has lost almost 12% against euro since hitting a 20-year peak in September as investors have started to anticipate easing inflation and with it a softer dollar as the need for more interest rate hikes wanes.
But for the past month or so, the euro has struggled to make further headway, and traders have been cautious in selling dollars while the U.S. Fed continues to promise hikes and the global economic outlook is bleak.
U.S. INFLATION IN FOCUS
Fed Chair Jerome Powell did not give any policy clues during a panel discussion in Stockholm on Tuesday, and with other Fed officials saying their next moves will be data-dependent, investors are keenly focused on U.S. CPI data.
"Another downward surprise to the core CPI would cement the deceleration trend," Commonwealth Bank of Australia (OTC:CMWAY) strategist Joe Capurso said.
"The U.S. dollar would ease further because another soft core CPI would encourage markets to continue to shift pricing for the (Fed's) February meeting from a 50 basis point increase to a 25bp increase."
Futures pricing has been bumpy, but indicates markets' now lean toward a 3/4 chance of a quarter-point hike next month.
The dollar index rose 0.15% to 103.42 against a basket of currencies.
China's re-opening has also supported sentiment and lifted Asia's currencies against the dollar.
China's yuan was a whisker short of a five-month high at 6.7737 on Wednesday.
The Singapore dollar has scaled 19-month highs this week and the Thai baht nine-month tops in anticipation of tourism picking up as China's borders open.
The Australian dollar wobbled its way about 0.1% higher to $0.6900 after data showed the annual pace of inflation increased to 7.3% in November, leaving room for more rate hikes. [AUD/]