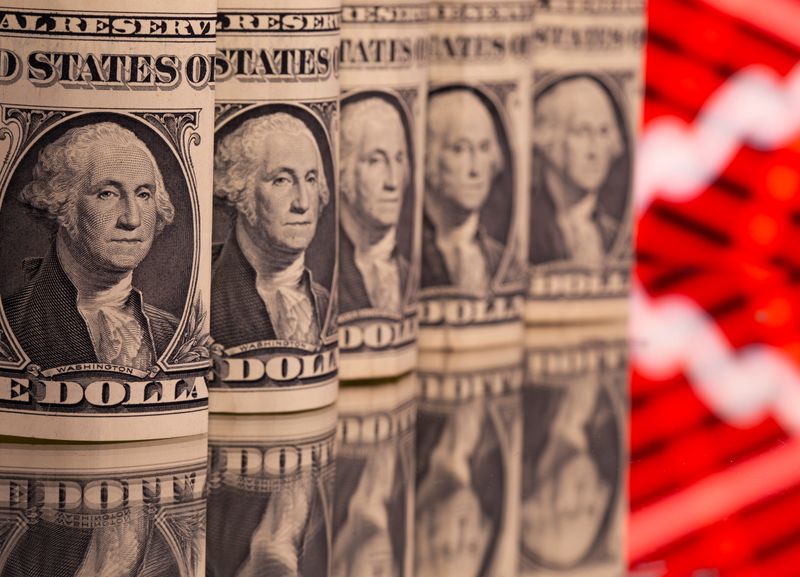 By Gertrude Chavez-Dreyfuss
NEW YORK (Reuters) – The U.S. dollar sank to a two-month low on Tuesday as another round of weak economic data reinforced investor bets that the Federal Reserve is nearly done with its tightening cycle even as other central banks are seen still raising interest rates to overcome persistently high inflation.
Sterling rose to a new 10-month high against the dollar, while the euro reached its highest since February.
Data showing U.S. job openings in February dropping to the lowest in nearly two years, and the continued decline in factory orders, undermined the dollar as the numbers indicated that rate hikes may be nearing an end.
Job openings, a measure of labor demand, decreased 632,000 to 9.9 million in February, the lowest since May 2021, according to the monthly Job Openings and Labor Turnover Survey, or JOLTS report.
"The main trigger was the JOLTS data, which is starting to point to labor market moderating. So we have this kind of grind lower in the dollar and we're also looking at yields," said Vassili Serebriakov, FX strategist at UBS in New York.
"The question is: Is the dollar hurt more by lower yields or is it helped more by weaker equities in the kind of risk-off environment? It seems like yields have a bigger impact."
On Tuesday, U.S. two-year Treasury yields, which tend to reflect interest rate expectations, dropped 12 basis points (bps) to 3.86%. For the month of March, two-year yields plunged nearly 74 bps, the worst monthly fall since January 2008 in the midst of the global financial crisis.
U.S. factory orders also declined for a second straight month, down 0.7% in February after falling 2.1% in January.
In afternoon trading, the dollar index dropped to a two-month low of 101.45 and was last down 0.4% at 101.58.
"We have a lot of data to chew on this week that will either show that the U.S. economy is resilient enough to withstand the Fed's ongoing rate-hike mentality or if markets will get their break," said Juan Perez, director of trading at Monex USA in Washington.
"Add poor data to a banking crisis, plus the rise in oil supply costs, and you may get more favorable odds for rate cuts by next year."
On Tuesday, the rate futures market priced in a roughly even chance of a 25-bp rate hike in May, with the rest of the odds tilted toward a pause from the Fed. On Monday, the probability of a 25-bp hike next month was more than 65%.
The rates market has also factored in Fed cuts by end-December.
Sterling rose to $1.2525, the highest since June 2022, after breaching a significant resistance level. The pound last changed hands at $1.2497, up 0.7%.
The euro reached $1.0973, the most in two months. It was last up 0.4% at $1.0951, with traders convinced that the European Central Bank has more rate hikes to come.
"We have the view for some time that the dollar has seen its peak and we're sticking with it. We have a $1.15 forecast for the euro against the dollar in the second half," UBS' Serebriakov said.
The Reserve Bank of Australia (RBA), as expected, left its cash rate unchanged at 3.6%, breaking a run of 10 straight hikes as policymakers said additional time was needed to "assess the impact of the increase in interest rates to date and the economic outlook".
The Australian dollar was last down 0.6% at US$0.6743.
Elsewhere, the dollar fell 0.6% against the Japanese yen to 131.635.