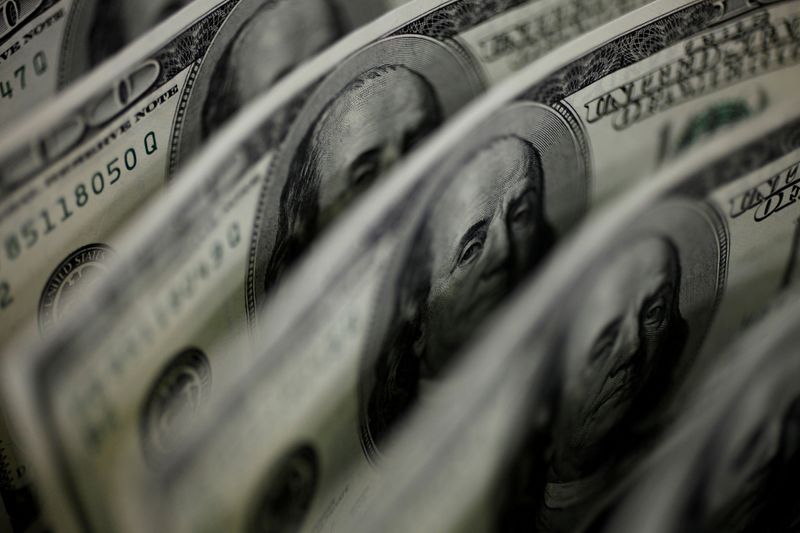 By Gertrude Chavez-Dreyfuss
NEW YORK (Reuters) – The dollar fell from a five-week high on Monday, as investors consolidated gains made last week on the greenback and awaited news from Washington on how to address the debt ceiling issue, which could force the U.S. government to default on its debt if not resolved.
In emerging markets, the Turkish lira sank to a near record low as weekend elections looked headed for a runoff, while the Thai baht rallied after a more decisive election result.
The greenback took an early dive after data showed the New York Federal Reserve's Empire State manufacturing index plunged to -31.8 this month from a reading of 10.8 in April.
Action Economics in its blog wrote that the Empire State fall was the largest decline since April 2020 and the lowest since January's three-year trough of -32.9.
The dollar's decline on Monday came after it notched its best weekly performance on Friday since September last year.
"The market is in consolidation mode and waiting for clearer signals from Washington on how they're going to avert a U.S. default," said Amo Sahota, director at FX consulting firm Klarity FX in San Francisco.
"I don't think there are key market levels that have been broken. Euro/dollar is still above $1.08. On Friday, it was threatening to drop below $1.08. The pound is still at $1.25," he added.
President Joe Biden is scheduled to meet with congressional leaders on Tuesday for face-to-face talks, a day before he leaves for a meeting of the Group of Seven nations in Japan.
Though the two sides did not appear close to an agreement, the White House has not ruled out the annual spending caps that Republicans say must accompany any increase in the nation's $31.4 trillion debt limit.
Ahead of Tuesday's meeting, U.S. House Speaker Kevin McCarthy warned on Monday that there has been "no movement" toward an agreement to lift the $31.4 trillion debt ceiling in talks with the White House, and he warned that time is running out to get a deal through Congress.
In afternoon trading, the dollar index , which measures the greenback's value against six major currencies, fell 0.3% to 102.40. Earlier in the session, the dollar touched a five-week high of 102.75.
Analysts have said many factors could be behind the dollar's recent strength, including concerns about U.S. inflation and safe-haven buying driven by fears about the debt ceiling standoff and global economic growth, as well as more hawkish rhetoric from Fed officials.
U.S. central bankers on Monday signaled they see interest rates staying high and, if anything, going higher, given sticky inflation – a stark contrast with the market's view that the Fed will start cutting rates well before 2023 is over.
The rate futures market has priced in about 50 basis points of cuts by the end of the year. Traders though have slightly increased their odds of a 25-bps rate hike next month to 20%, with the majority expecting a pause.
The euro was up 0.2% against the dollar at $1.087.
Against the yen, the dollar was up 0.3% at 136.06, while sterling was 0.7% higher at $1.2527, rebounding after last week's 1.5% fall.
Elsewhere, the dollar was last up 0.5% against the Turkish lira at 19.67. It earlier jumped to 19.7 for the first time since March 10, when the dollar hit a record high of 19.8 on a volatile trading day.
The dollar sank 0.5% to 33.76 baht in onshore Thai trading. Thailand's opposition parties secured a stunning election win on Sunday.
Commodity currencies — the Aussie, New Zealand, and Canadian dollars — gained against the greenback, as oil and metals rose.