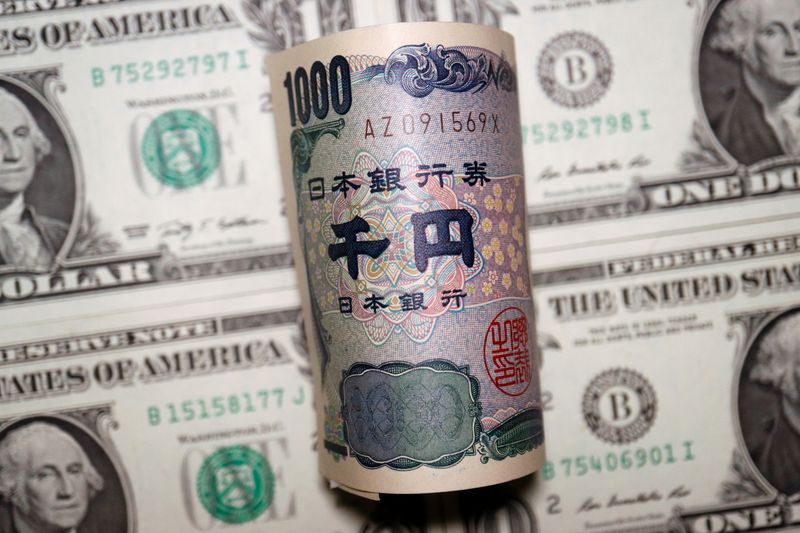 By Harry Robertson and Ankur Banerjee
LONDON/SINGAPORE (Reuters) – The dollar fell against the yen on Tuesday as markets remained on high alert for signs of Japanese intervention, but the broader market was placid with U.S. traders off for a public holiday.
The greenback was down 0.28% at 1340 GMT to 144.26 yen, after rising 0.27% on Monday.
However, the yen remained close to last week's almost eight-month low of 145.07 per dollar, which prompted Japan's Finance Minister Shunichi Suzuki to warn against excessive yen selling.
Market activity was relatively subdued with U.S. markets closed for the July 4 public holiday. Investors were also waiting for Friday's U.S. non-farm payrolls employment report which could influence the Federal Reserve's next decision.
The euro was down 0.15% against the dollar at $1.089, while sterling was up 0.28% at $1.273.
The U.S. dollar index, which tracks the greenback against six major peers, was little changed at 102.95.
"It feels like every week will bring something and this week we're waiting for the U.S. non-farm payrolls," said Alvin Tan, head of Asia FX strategy at RBC Capital Markets.
The Reserve Bank of Australia (RBA) held interest rates steady at 4.10% on Tuesday, saying it wanted more time to assess the impact of past hikes, but warned further tightening might be needed to bring inflation to heel.
The Australian dollar bounced around, but was up 0.34% to $0.669 at 1340 GMT.
Markets had leant towards the central bank holding rates steady after inflation eased a little more than expected in May, yet traders who bet on the future path of interest rates expect at least one more rate hike this cycle, according to pricing in derivatives markets.
The RBA's pause came after a bumper month for global interest rate hikes in June. Seven of the nine central banks overseeing the 10 most heavily traded currencies that met in June hiked rates, while two opted for no change, Reuters data showed.
Across currency markets, investors remained on watch for possible intervention by Japanese authorities to stem yen losses.
Earlier on Tuesday, Japan's top financial diplomat Masato Kanda said that officials were in close contact with U.S. Treasury Secretary Janet Yellen and other overseas authorities almost everyday on currencies and broader financial markets.
Japan bought yen in September, its first foray into the market to boost its currency since 1998, as the Bank of Japan's pledge to retain ultra-loose policy as long as required drove the yen as low as 145 per dollar. It intervened again in October after the yen plunged to a 32-year low of 151.94.
"The Bank of Japan is still unwilling yet to move away from the YCC policy, that's going to result in a higher dollar," he said, referring to Japan's yield curve control that keeps bond market rates low.
Tan said the dollar is likely to rise past 150 yen, which would make intervention "more likely than not".