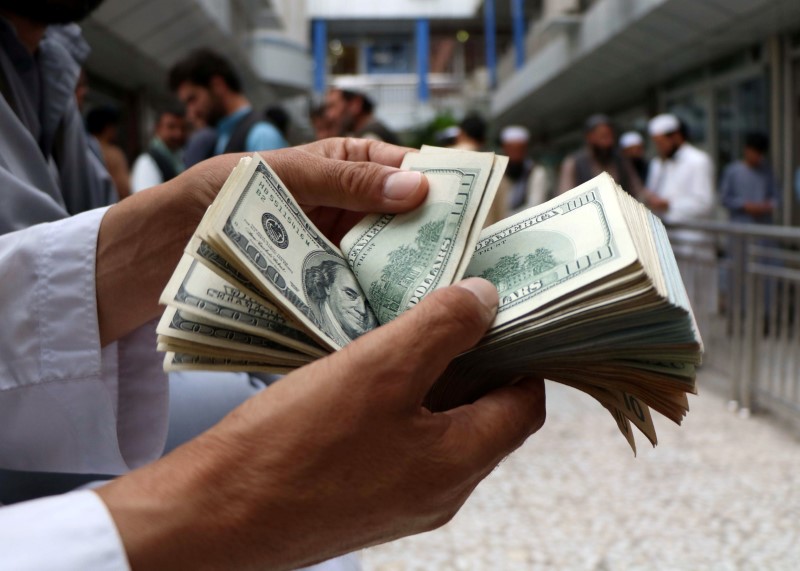 By Gertrude Chavez-Dreyfuss
NEW YORK (Reuters) – The dollar fell on Monday in choppy trading after last week's strong rally, weighed down by firmer stocks and lower long-dated Treasury yields, as investors consolidated positions ahead of Tuesday's crucial U.S. consumer price index (CPI) data.
The greenback, however, rose to six-week highs against the rate-sensitive Japanese yen on expectations the Federal Reserve will keep monetary policy tight for longer. This view will be challenged or confirmed by the CPI data, which loomed over Monday's trading.
"Higher stocks and lower yields are causing the dollar to take a breather ahead of tomorrow's inflation data," said Joe Manimbo, senior market analyst at payments company Convera in Washington.
"The risk-on trade is also weighing on the yen, while it's not helping that the next head of the BOJ (Bank of Japan) might not necessarily signal an imminent change in course from the negative rate policy."
Investors expect headline CPI to rise 0.5% in January on Tuesday, after falling 0.1% in December, with the core number seen advancing to 0.4% from 0.3% the previous month, according to a Reuters poll.
The euro hit a one-month low of $1.0656 in Asia trading, but was last up 0.4% at $1.0719. The British pound rose 0.6% to $1.2134, after hitting a one-month low of $1.1961 last week.
That left the dollar index, which tracks the greenback against six major currencies, at 103.29, down 0.3%.
The dollar rose to 132.91 yen, the highest since Jan 6.. It was last up 0.7% at 132.34 yen.
"The market doesn't want to be short dollar/yen ahead of CPI tomorrow," said Marc Chandler, chief market strategist at Bannockburn Forex in New York.
The greenback tracked the rise in the U.S. Treasury two-year yield, which was last up 1.7 basis points (bps) at 4.53%, after hitting its highest since late November.
"We have a nice pullback in the U.S. dollar after a strong rally last week," said Bannockburn's Chandler.
"I don't think we have taken out key levels just yet. But we're consolidating some positions after last week's moves and ahead of tomorrow's CPI."
Higher U.S. yields were a major driver of the softer yen. The benchmark 10-year U.S. Treasury yield on Monday hit a fresh six-week high of 3.755% and the two-year yield hit its highest since late November at 4.56%.
The Japanese currency dropped sharply last year to a 32-year low of 151.94 per dollar as U.S. rates rose, while Japanese rates stayed near zero.
It has regained ground this year as U.S. rates seemed to be near their peak, and as expectations rose that the Bank of Japan would move away from its ultra-loose stance, but both scenarios now look like they have been delayed.
Sources said on Friday that former Bank of Japan board member Kazuo Ueda is set to become the next governor. In an interview the same day, Ueda said it was appropriate for the BOJ to maintain its current ultra-easy policy.
In the United States, money markets are positioned for U.S. interest rates to peak at 5.2% around July, compared with the Fed's current target rate of 4.5-4.75%, but have mostly walked back expectations of major rate cuts later in the year.
Elsewhere, the Swiss franc strengthened after Swiss inflation data came in higher than expected. The dollar slid as low as 0.9193 Swiss francs and was last down 0.4% at 0.9197 francs.