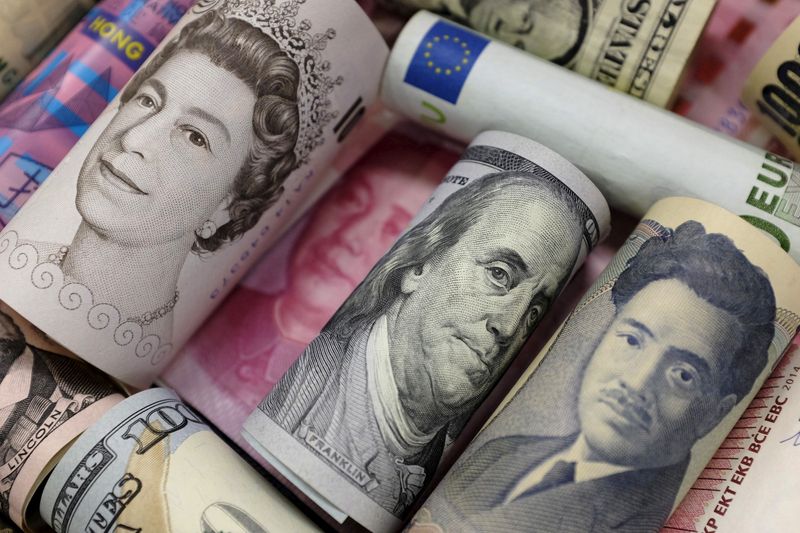 By Ankur Banerjee
SINGAPORE (Reuters) – The U.S. dollar was little changed on Thursday as investors looked ahead to next week's U.S. inflation data and digested comments from a slew of Federal Reserve officials who said modest interest rate rises were on the way.
Moving to a federal funds rate of between 5.00% and 5.25% "seems a very reasonable view of what we'll need to do this year in order to get the supply and demand imbalances down," New York Fed President John Williams said at a Wall Street Journal event.
Williams's comments followed Chair Jerome Powell's sticking by his interest rate outlook on Tuesday, when he reiterated that a process of "disinflation" was underway.
The dollar index, which measures the U.S. currency against six rivals, was 0.029% higher on Thursday at 103.460, having dropped nearly 0.3% in the previous session.
The index is just off the one-month high of 103.96 it touched on Tuesday in a brief rally following Friday's jobs report, which showed non-farm payrolls had surged by 517,000 jobs in January.
The report raised expectations that the Fed might go back to an aggressive monetary policy stance, but Powell did not lean further into that argument in his speech on Tuesday.
Meanwhile, the euro was up 0.04% at $1.0713, off the one-month low of $1.067 it touched on Tuesday.
The Japanese yen weakened 0.11% to 131.54 per dollar, while sterling was last trading at $1.2064, down 0.06% on the day.
The Australian dollar rose 0.04% to $0.693, while the kiwi was up 0.06% at $0.631.
Market pricing anticipates the Fed funds rate peaking just above 5.1% by July then falling by the end of the year to 4.8%.
Williams, in his remarks, reiterated his belief that it remained key for monetary policy to get to and stay at levels that would restrain economic growth "for a few years."
OCBC currency strategist Christopher Wong said the pace of rebound in the dollar was showing tentative signs of moderation but the currency was still somewhat supported, because of comments from Fed speakers.
"On one hand Powell's comments at the Economic Club of Washington the night before was less hawkish but on the other hand, Fed officials such as Williams (and Fed Governor) Lisa Cook took the opportunity to turn up the hawkish rhetoric."
Investor focus will now switch to the U.S. inflation data due next week on Tuesday.