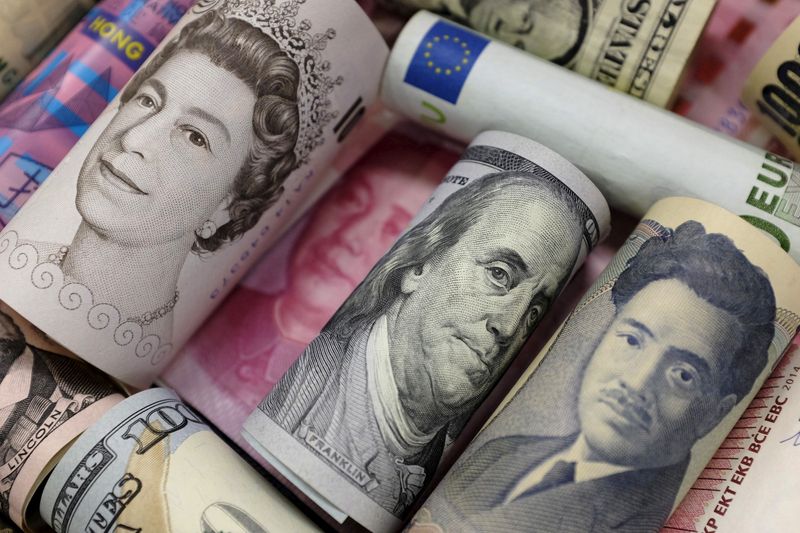 By Herbert Lash and Gertrude Chavez-Dreyfuss
NEW YORK (Reuters) – The dollar fell from a seven-week high on Monday, tracking a slide in U.S. Treasury yields, as investors consolidated gains after the greenback's recent rise and looked ahead for the release of jobs data and consumer prices for February.
The dollar's decline was exacerbated by a higher-than-expected drop in U.S. durable goods of 4.5% last month, reversing a huge December boost from Boeing (NYSE:BA). These so-called durable goods orders increased 5.1% in December.
The report dented some of the hawkishness built into U.S. interest rates, though they are expected to remain higher for longer, analysts said.
With February coming to an end after the dollar's almost 3% climb during the month on stronger-than-expected U.S. economic data, investors are consolidating recent positions, said Joe Manimbo, senior market analyst at Convera in Washington.
"It's just investors pulling some chips off the table," he said. "We've had a ton of data so far, and so far it's been hotter than expected and that's been the fuel for the dollar."
The market awaits this month's data for U.S. unemployment on March 10 and the consumer price index on March 14, both of which will influence Federal Reserve policy on interest rates and the central bank's efforts to slow inflation to its target pace.
"Until the market gets a look at the next non-farm payrolls as well as the next consumer price index, the market is going to be reluctant to push the dollar meaningful lower," Manimbo said. "The market is just realizing the road to 2% inflation is likely to be longer and more winding."
Investors will get more information on the state of the global economy this week, with U.S. ISM manufacturing and services survey data for February due on Wednesday and Friday, respectively. Preliminary euro zone CPI inflation figures for February are due on Thursday.
New data on Monday that showed U.S. pending home sales posted their largest gain in 2-1/2 years failed to lift the dollar, as recent strong economic readings have done.
The National Association of Realtors (NAR) said its Pending Home Sales Index, based on signed contracts, jumped 8.1% last month, the biggest increase since June 2020. Economists polled by Reuters had forecast contracts, which become sales after a month or two, rising 1.0%.
Traders now expect the Fed to raise interest rates to about 5.4% in July, according to pricing in futures markets. At the beginning of February, they envisaged rates rising to a peak of just 4.9%.
The dollar index, which measures the currency against six major peers, fell 0.513% and is on track to snap a four-month losing streak. Earlier it hit its highest since Jan. 6.
The euro rose 0.58% to $1.0607, while the Japanese yen strengthened 0.20% versus the greenback at 136.20. The yen reversed some of its gains after rising to a more than two-month high of 136.54 earlier in the session.
Incoming Bank of Japan Governor Kazuo Ueda said on Monday the merits of the bank's current monetary policy outweigh the costs, stressing the need to maintain support for the Japanese economy with ultra-low interest rates.
Sterling rose after British Prime Minister Rishi Sunak struck a new deal with the European Union on post-Brexit trade rules for Northern Ireland on Monday and said it would pave the way for a new chapter in London's relationship with the bloc.
The pound was last at $1.2059, up 0.96% on the day.