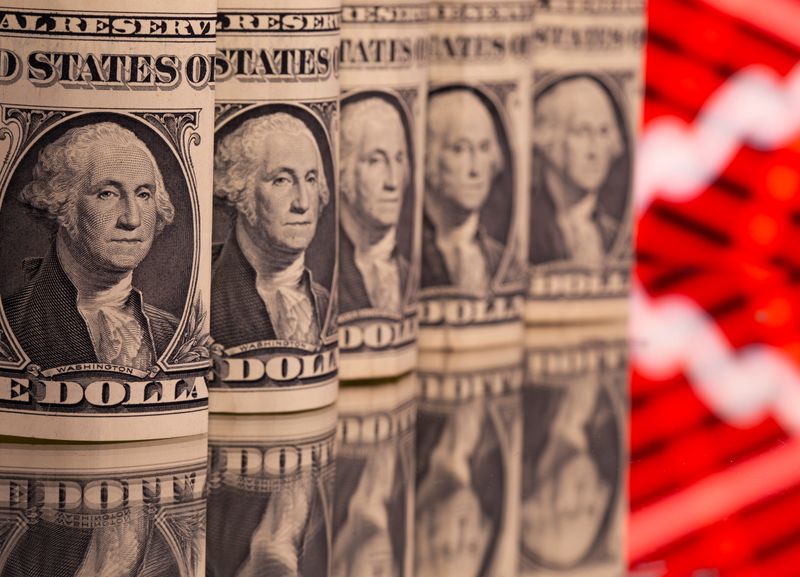 By Laura Matthews
NEW YORK (Reuters) – The dollar strengthened on Wednesday after U.S. Federal Reserve meeting minutes showed policymakers are determined to use a slower pace of interest-rate hikes to tame persistently high inflation.
The greenback rose in late trading, sending sterling down 0.58% to $1.2036, while the euro fell 0.44% to $1.0600. The dollar index was up 0.40% at 104.57, easing off the high of 104.59 it reached earlier in the day.
"The Fed minutes were just released indicating that a few officials could have supported a 50-bps hike in the last meeting, though most backed the 25bps outcome. This is certainly supportive of the U.S. dollar, which is slightly stronger now against most other currencies," said Minh Trang, senior FX trader at Silicon Valley Bank in Santa Clara, California. "The theme throughout February has been a bias towards higher rates, and these minutes are consistent with that perspective."
The minutes from the Fed's Jan. 31 to Feb. 1 meeting said most of the officials supported the quarter-point increase because a slower pace "would better allow them to assess the economy's progress" toward reducing inflation to their 2% target. But "a few" participants outright favored a larger 50- bps increase at the meeting, or said they "could have supported" it.
A series of data in recent weeks has been signaling strong business activity in the world's largest economy, a tight labor market, robust retail sales and higher monthly producer prices. The hotter-than-expected data has helped to keep the dollar stronger, but also added to concerns that the U.S. central bank will likely need to keep rates higher for longer if inflation is to reach the Fed's target.
St. Louis Fed President James Bullard on Wednesday pointed to the need to get inflation on a sustainable path toward that goal this year or risk a repeat of the 1970s, when interest rates had to be repeatedly ratcheted up.
The Fed's target range stands at 4.5% to 4.75%, having risen rapidly from 0% to 0.25% in March 2022. But Fed funds futures traders are now pricing the fed funds rate to reach 5.38% in July, and remaining above 5% all year.
"The USD along with assets market is reacting to the realization of investors that it may have been hasty to overlook the Fed's hawkish guidance at the start of this year," said Jane Foley, head of FX strategy at Rabobank in London. "Stronger-than-expected U.S. data releases since the start of this month have reinforced the Fed's messages about stronger for longer interest rates."
Against the yen, the dollar cut losses to trade little changed on the day at 134.95.