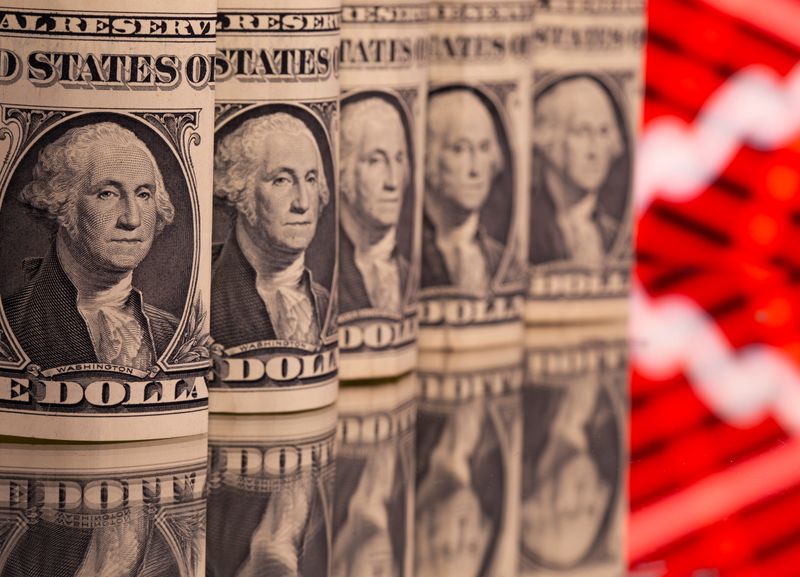 By Gertrude Chavez-Dreyfuss
NEW YORK (Reuters) – The dollar nosedived across the board on Tuesday after data showed U.S. consumer price inflation rose less than expected last month, reinforcing expectations the Federal Reserve will slow the pace of rate increases after its two-day meeting on Wednesday.
The greenback fell to a six-month low against the euro after the data. The euro hit $1.0673, the highest since June, and was last up 0.9% at $1.0631.
Against the yen, the dollar dropped to a one-week low of 134.67, and last changed hands at 135.55 yen, down 1.5%.
The dollar index, measuring the U.S. unit's value versus six major currencies, fell 0.9% to 104.02.
Data showed that headline U.S consumer prices rose modestly in November on an annual basis as gasoline and used cars cost less, leading to the smallest annual inflation increase in nearly a year. In the 12 months through November, the CPI climbed 7.1%, the smallest gain since December 2021, following a 7.7% rise in October.
Excluding volatile food and energy components, the CPI increased 0.2% last month after rising 0.3% in October. In the 12 months through November, the so-called core CPI advanced 6.0% after increasing 6.3% in October.
The report supported widely held expectations for a smaller Fed rate hike of 50 basis points when the central bank announces its decision on Wednesday. Fed funds futures have also priced in a lower terminal rate, where the Fed stops hiking, of 4.8%, expected to hit in May. That was down from about 5.1% seen late last month.
Traders are also betting on 25-basis-point increases at each of the Fed's first two meetings of 2023 and no more, with some chance the last hike could come in May instead of March.
"This would represent a further deceleration in rate hikes and brings closer the interest rate difference between the dollar and other currencies because other countries are hiking too," said Ivan Asensio, head of FX risk advisory at Silicon Valley Bank in San Francisco.
"There's less of a benefit to the U.S. and less pressure for the dollar to rise," he added.
The dollar also posted steep losses against commodity currencies.
The Australian dollar rose 1.6% against the greenback to US$0.6850. The New Zealand dollar gained 1.3% to US$0.6462. Against the Canadian dollar, the U.S. currency fell 0.5% to C$1.3560.
"We would broadly subscribe to the view that markets are expecting a relatively quick shift from the Fed from having raised interest rates till now, to cutting rates over a relatively short time period," said Richard Flax, chief investment officer at Moneyfarm in London.
"Our perspective is that the market is pricing in the possibility that the Fed stays at its peak rate for a little bit longer."